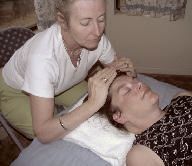 Jaap Kaur Khalsa (Kitty Pope) is a dedicated Reiki Practitioner who was fortunate to come to a very pure and disciplined Reiki lineage.
There are only 6 teachers between Jaap Kaur and Dr. Mikao Usui, each with tremendous discipline to perform and instruct precise Reiki without modifications to original and prior content as additional developments have been added.
Jaap Kaur maintains a strong adherence to the techniques as she directs the Reiki energy in her practice and teachings.
Jaap Kaur began benefiting from Reiki treatments in Oct, 2000. In Feb, 2001 she was Reiki I and II trained.
In July, 2001 she was Reiki III trained as a Personal Mastery Practitioner. She continued her practice and realized the increase in Reiki energy flow and added benefits of the Master symbol.
In December 2002 Jaap Kaur began an 11 month Reiki Master training program after an invitation to participate and qualifications testing. The comprehensive program included advanced Reiki and attunements training, student teaching and rigorous oral, written and practical testing. Final certification was in November 2003.
Now Jaap Kaur teaches semi-private Reiki I and II classes to give students the maximum support and information.
What has helped Jaap Kaur develop her Reiki energy flow has been a doing pure diet, daily yoga/meditation practice, heart-centered life guidance and lots of community service.
She became vegetarian June, 2001, vegan July, 2001 and raw foodist April, 2002. Only putting live foods with all their enzymes, vitamins, minerals, and protein unaltered into her body allows her to be a larger and lighter vessel for the Reiki flow.
She was introduced to Kundalini Yoga in May, 2001 and has grown steadily with a daily practice consisting of breathing, yoga postures and movement, and meditation.
In October, 2002 Jaap Kaur completed a 19-day intensive Kundalini Yoga Teacher's training called Master's Touch which included nearly daily lectures by Yogi Bhajan, training from Kundalini Yoga Master teachers, and 5 yoga sets a day.
She received her Level I Kundalini Yoga Teacher's certification in February, 2003.
Current Kundalini Yoga teaching activities link: http://jaap-kaur-yoga.20m.com
Reiki and Kundalini Yoga have been very complimentary in development and support of each other to provide opportunities for each to grow so much faster together.
Also, Jaap Kaur uses affirmations, scripture, and prayer daily to saturate herself and the universe with positive thoughts, blessings, and energy.
To serve the universe Jaap Kaur works with various non-profit organizations but more importantly is ready to lend a hand to do whatever is needed as opportunities arise. Jaap Kaur offers weekly treatments to chronically ill people and recovering hospital surgeries as well as food preparation, paperwork, sharing lessons learned, letting others go first, and simple smiles.
This service to others and yoga practice provides a foundation so she can easily place herself on the shelf (getting her mind and ego out of the process) to let Reiki direct the work.
Integrity that has not & will not compromise teachings